After being urged by many, I will start posting images and editorial from my motorsports career. While I currently have no desire to become any less active on the racing scene, eventually I hope to get a book out documenting all my years in the business. I think this process can help me refresh my memory while also develop interest in such a project along the way. My postings will bounce all over the spectrum of the more than three decades since graduating from the University of Alabama.
***
It was 20 years ago today (April 1, 1993) that we lost Alan Kulwicki, NASCAR's version of "The People's Champion." Alan came from humble beginnings and persevered what could have been a devastating childhood. His mother died when he was in the second grade. He, his father and his brother lived with his grandmother until he was in the seventh grade when his grandmother died. His brother, a hemophiliac, died a year later. His dad, Gerald, was a top engine builder on the USAC racing circuit. He did not actively encourage Alan to go racing. "He knew how difficult it was to be successful," Alan later reflected. "He did little to promote my career and never invested any of his own money in my racing. I don't want to paint a bad picture that my dad did a bad job of raising me. I could always go and ask him questions. The bottom line was that he didn't want me to get hurt. I was all he had left."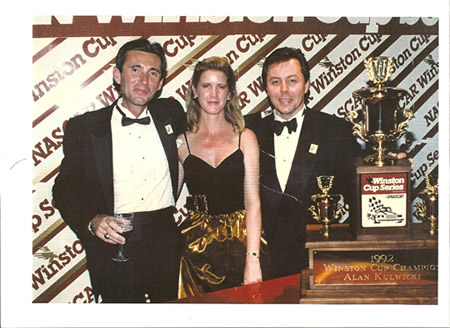 Alan started racing go-karts during his freshman year at Pius High School in Milwaukee. When he stopped playing high school football to spend more time on his racing, "I wasn't looked at as being a cool guy anymore," he later said. He started racing stock cars in 1974. He mixed getting his college degree (BS in Mechanical Engineering from University of Wisconsin/Milwaukee) and racing until 1977 and mixed a potential engineering career and racing through 1979. After winning track championships at Slinger and Kaukauna, he chose racing full-time. Following five seasons on the American Speed Association tour (which produced five wins, 12 poles and three top-five points finishes), he headed south to pursue his dream of being a NASCAR regular.
***********************
I feel as though I was truly blessed to have the opportunity to work with short-track racing legend Dick Trickle during the 1989 season.
Called in to take over for the injured Mike Alexander at Rockingham after the season-opening Daytona 500, Dick was a beer sponsor's dream. He had already been backed by Pabst and Coors Light in his racing in the Midwest, so he adapted quickly in helping promote Miller High Life. The Wisconsin driver brought home the rookie-of-the-year award for the Wisconsin-based sponsor that season.
We only worked 28 races together, yet there are so many stories to tell. There were all those wise sayings he had accumulated through the years; "Trickle-isms" as I referred to them. There was his first race when his cowboy boot caused his throttle foot to swell. There was the media day (and night) we had at the fall Atlanta race. The "Trickle Takes Manhattan" episode…our trip to the Minnesota State Fair…just so many great times. There is only enough space to expand on one story in this writing, so here goes:
Dick had finished in the top-five in four of his first seven races as the driver of the No. 84 Miller High Life Buick for Stavola Brothers Racing. He had finished third in the spring race at Martinsville, so we came back in for the fall race with high expectations. The whole team, Tickle included, was staying at the Dutch Inn. This was the race when Hurricane Hugo had passed through the Carolinas and Jimmy Hensley put Dale Earnhardt's Chevy on the pole. Trickle had qualified fifth for our best starting spot all year. I was trying to do the best job I could for the team…on and off the track. My wife, Joni, was helping me work with Alan Kulwicki and the Zerex account that season and was with me that weekend for the race. The
Saturday night before the race, we decided to check out the bar before heading out for an early dinner. We were enjoying an adult beverage when Trickle came in and started mingling with the patrons as usual. I tried for at least 30 minutes to talk him into going out to eat with us and getting some shut-eye.
Bobby Allison - 1988 Daytona 500
Trivia question: What is the most beverage sponsor's product ever "used" by a driver & his team during Daytona Speedweeks?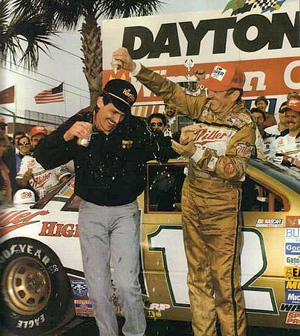 It definitely has to be attributed to racing legend Bobby Allison during Speedweeks 1988. No, I never saw him actually consume any "barley pops," as BA called his Miller High Life Beers, until the post-race victory party several hours after he had won the Daytona 500. But spraying, pouring and dousing…that was another thing. The fact is that BA and those of us around him managed to go through more than 55 cases…1,320 cans…16,000 ounces…of "The Champagne of Beers." The biggest reason for so much "consumption" had nothing to do with quenching thirsts; however that was definitely a by-product. The cause for such a river of flowing brew was due to the success that BA had during Speed Weeks 1988. It was on Feb. 14, 1988, when Bobby beat son Davey by only two car lengths to claim his third Daytona 500 victory. But during that same edition of Speedweeks, BA also won his Thursday afternoon qualifying race and Saturday's 300-mile Busch (Nationwide) Series race. He even won the annual fishing tournament on Lake Lloyd inside the track that year. It was a scenario of incredible achievement that was accompanied by staggering celebrations. It was the normal setting when I arrived in Daytona Beach that
year. BA & Judy had their usual brand new "borrowed" Buick from the Lloyd Buick dealership on Beach Street in Downtown Daytona Beach. As always, we were staying at the Dolphin Beach Club time share/rentals on South Atlantic just up from the Dunlawton Bridge. But there was a special feeling in the air, like BA was on a mission this time around. We had won the Firecracker 400 the prior July, but many still said we had just lucked into it. We came back from a lap down late in the race and snookered them with a set of fresh tires at the end. BA was out to get a victory with no controversy associated. During the off-season, we had changed colors (from the predominantly red Miller American scheme to the eye-catching gold can-colored Miller High Life scheme). We had also changed car numbers (from the 22 Bobby had raced since 1982 to his favorite No. 12, the number he had used in recording his most wins…29 victories…entering the 1988 season).
*********
The Hall of Fame "Rusty Team Mambers from the Past"
***
This image comes from the first press conference I ever did with Rusty Wallace. It was on October 30, 1989, at Charlotte Motor Speedway, where we unveiled our new Miller Genuine Draft Pontiac. I have often referred to this car as the "forgotten" member of the Miller-sponsored NASCAR fleet of race cars. The Miller High Life brand (with Miller American & other offshoots) had been used from 1983 through the 1989 seasons in sponsoring drivers Bobby Allison, Greg Sacks, Bobby Hillin, Mike Alexander and Dick Trickle.
If not for Warner Hodgdon, I might still be working in the race track side of the motorsports business today. Working in the role of Assistant General Manager & Director of Public Relations at the fairgrounds track in Nashville (Nashville International Raceway at the time) was a fun and rewarding experience in the early '80s. It all came to an end in the early fall of 1983 when Gary Baker, my boss and a prominent Nashville attorney, summoned me to his downtown high-rise office. Behind closed doors,